We are the municipal/government solutions experts offering services to address your complex issues with innovative and customized solutions.
Regional Water Delivery Systems
Just completed:
Project: Water supplier switch from the City of Chicago to the City of Evanston for the Villages of Morton Grove and Niles.
Client: Villages of Morton Grove and Niles operating through the legal auspices of the Morton Grove-Niles Water Commission.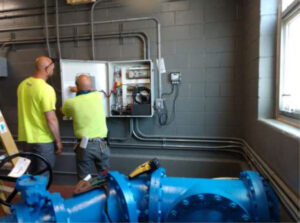 This project had price savings objectives as water producers were similar in quality and delivery requirements. This $108m project began partial service December 27, 2018 and will deliver full-service February 1, 2020 to our members. It will produce first year and every savings to each member community served by a newly established Water Commission. The project in addition has received three professional awards from the Illinois Section of the American Water Works Association, 2019, The Illinois Section of the American Public Works Association in 2020, and the Illinois Section of the American Society of Consulting Civil Engineers in 2020. This project was a result of a high level of focus, professional involvement, client support, and execution involving engineering, finance, legal, and management. WRB is extremely proud of the outcomes of this project as are our clients.
Completed in 2019:
Project: Lake Michigan water delivery extension system of the Central Lake County Joint Action Water Agency (CLCJAWA).
Clients: The Villages of Lake Villa and Lindenhurst with participation of two Lake County operating systems Grandwood Park and Fox Lake Hills.
This group operated initially as an intergovernmental cooperative then transferring to full Membership in the Joint Action Water Agency. In this instance poor ground water quality and limited ground water production required a robust supply of Lake Michigan Water. Core financing was established through a Special Service Area Bond authorization by the County of Lake for 11,000 properties, the largest in the State of Illinois. Both financial and operational objectives were achieved.
Completed in 2017:
Project: Feasibility analysis for procuring Lake Michigan water supply from North and West Lake County growing communities, operating though an intergovernmental planning cooperative.
Clients: The Villages of Lake Villa, Lindenhurst, Volo, Wauconda, Long Grove, Lake County Grandwood Park, Lake County Fox Lake Hills, Antioch, Fox Lake, and Lake Zurich, and Hawthorn Woods (the last four Villages dropped out for financial reasons at the conclusion of the planning study).
The purpose of this study was to identify optimal supplier of Lake Michigan Water from Lake County Water producers including The Central Lake County Joint Action Water Agency in Lake Bluff, the City of North Chicago, The City of Waukegan, and the Lake County Public Water District (Zion). The end product of this initiative produced three water supplier options all constructed and all meeting service and financial objectives involving a North Group a West Group (Volo and Wauconda), and Long Grove through a Lake County system also serving Vernon Hills.
Completed in 2016:
Project: Water supplier negotiations with the Village of Oak Lawn supplying to customers requiring 75% of Oak Lawn capacity and coordination of a $230m capital improvement initiative.
Clients: The Villages of Orland Park, Tinley Park, Mokena, New Lenox, and the City of Oak Forest.
This project involved intense negotiations with Oak Lawn producing three dozen rights to customers and duties of Oak Lawn to project an equitable relationship between supplier and customers and providing safeguards in the construction contracts. It also entailed identifying and implementing the optimal route alignment deferring the decision making to the Villages served.
Completed in 2015.
Project: Lake County (IL) development of a regional water management plan.
Client: County of Lake.
This project involved planning for both Lake Michigan and ground water supplier options over the long term. While being geographically urban to the east and rural estate to the west, Lake County needed to address three core supplier systems, Lake Michigan supplied, Municipal ground water supplied, and private well supplied. The study reached three core conclusions. Systems that could reach an existing Lake Michigan water supplier economically should do so, Municipal ground water suppliers need to align their comprehensive  plans to the realities of the Illinois State Water Survey data, and for private well communities, preservation of wetlands and reduction in road contaminants need to drive municipal ground water policy. The study was accepted and is used in as the northern element of the Metropolitan water initiative of CMAP. The study also led to the creation of the North and West Group initiatives listed above in supplying Lake Michigan water.
Completed in 1986 and operationally led through 2006:
Project: Planning, design, financing, construction and 20-year operations of the Northwest Water Commission, Des Plaines, IL.
Client: The Villages of Arlington Heights, Buffalo Grove, Palatine and Wheeling, converting their ground water supplies to Lake Michigan water supplied by the City of Evanston.
This project was the first of several initiatives to stop mining deep ground water in the northwest suburbs and convert that supply to Lake Michigan water. This project involved critical time constraints as development and construction were high in the 1980's. Formula based water supply contract negotiations produced the lowest Lake Michigan wholesale water rate in metropolitan Chicago through 2006 with a 100% performance record in delivery. The system was unique in that it was designed with large diameter piping with limited pumping which produced long term savings to member communities. Later in 2008 WRBLLC was retained to lead negotiations to a once in 40-year contract opener with the City of Evanston producing a five-year extension and additional savings to member communities of the Northwest Water Commission.
Current project:
I am currently under contract with the Village of Flossmoor to develop a program to switch from a Chicago-Harvey-Homewood supplier configuration to a Hammond-Chicago Heights supplier configuration driven by both price considerations and an expiring supply contract with the Village of Homewood. The project is currently in the development phase.
Customized Team-Based Interim Services with Operational Assessments
Highwood, IL
This assignment required a full review of the operations as well as the structure of this small and unique Lake County City.  The City had traditionally been a full-service provider but synergies were present for shared services in public safety and infrastructure maintenance. The organizational recommendations led to National Accreditation from the International City and County management Association and the recruitment and appointment of the City Administrator.
Clarendon Hills, IL
This assignment with an affluent DuPage County Community included a leadership assessment and further development of shared policing services with a neighboring community. Uniquely the Village was able to maintain a robust paid on call Fire Department with one full time employee (the Fire Chief). His skills at recruitment and employee development and managing a transitional workforce serves as an important metric of staffing with opportunities in other smaller communities.
Kildeer, IL
This assignment with a highly affluent Lake County Community required a full department assessment and operated on a model which heavily relies on Township government for roadway maintenance services and a strong service sharing agreement with both the Sheriff and adjacent Lake County Communities. Environmental protection of wetlands for water supply and dry hydrants adjacent to ponds supported fire protection.
Prospect Heights, IL
This engagement for a northern Cook County City required both a full operational review and extensive water supply planning leading to initiatives to expand Lake Michigan water availability for unserved areas. The City co-owned the largest general aviation airport which required extensive input on long range planning to meet both safety objectives and expanded general aviation demand. The City revenue strategy had non reliance on property taxes. The executive recruitment of the City Administrator was the last work task for the City.
Lake Barrington, IL
This engagement for a southern Lake County Village operated with extensive contracted services as many Public Works services were provided by Township government. The Village has a strong commitment to open space preservation, extensive environmental protection of wetlands tied directly to the extensive use of private services, commitment to agricultural heritage by preserving and development an active farm, and contracted policing. All and all the Village operated with five employees and did so effectively. The engagement ended with the successful recruitment of the permanent Village Manager.
Tinley Park Public Works
This engagement involved with crisis management first driven by the unplanned separation of the Public Works Director and operational issues with the aging individual water meter accuracies, some of which was real and most of which was driven by public concern that the billing system of the Village was compromised. A full assessment of public Works services and a comprehensive solution to the water meter crisis which led to accelerated meter replacement and financing was required.
Orland Park Public Works
This engagement with a highly successful Southwestern Cook County Village was driven to support and development management capabilities from a public works staffing where multiple public works operational, supervisory, and management personnel took advantage of a Village sponsored early retirement program leaving the department with a gap in leadership and expertise. Engagement also included established performance metrics, a leadership competency assessment, and delivery of services in real time. This assignment was also completed during the COVID 19 national crisis.
Lombard Fire Department
This engagement to a diversified DuPage County Village was driven by a separation of the Fire Chief and required a full departmental operational assessment. Work included a new and expanded joint services agreement for medical and Fire responses in automatic aid format, review of operating standards and practices, leadership assessment of command officers, and recruitment of a new Fire Chief.
Elk Grove Village Fire Department
This engagement of a large Northwest Cook County suburban department was launched as a result of an early departure of the Fire Chief and included a full department operational assessment, leadership competency assessment, reduction in fire stations from four to three and planning for one new station to replace two outdated facilities. Engagement required participation in collective bargaining negotiations with firefighters and lieutenants. Engagement also included reduction of one ladder company.
Services Assessments and Restructuring/Joint Services
Des Plaines Fire Department
This engagement for a large a diversified full-service Fire Department in Northwest Cook County involved a full operational assessment with a particular focus on apparatus and shift staffing from multiple stations and deployment of apparatus in combination with other stations. Stations facilities which were all ageing also received a review based on adaptability, expansion, and placements. A comparison of response metrics with 12 comparable departments and joint station staffing/response was also evaluated.
Barrington Fire Department
This engagement included a decoupling of a longstanding operational service agreement between a Northwest Cook County Suburban Fire Department and a larger area Fire Protection district. Changes in both departments altered financial and operational parameters to deliver service, required enhanced automatic aid agreements and repositioned apparatus and staffing to meet financial and operational objectives.
Franklin Park Fire Department and Leyden Fire District
This engagement involved a West Cook County Village and adjoining Fire District to provide recommendations on apparatus deployment and staffing in a rail congested region of the County. Five stations were evaluated relating to optimal response times and Shared major apparatus deployments were expanded.
Oak Lawn, Chicago Ridge, Alsip Fire Departments
These three southwest Cook County Fire Departments were interested in developing apparatus sharing potential, joint training scenarios, and in the case of Oak Lawn and Chicago Ridge, sharing a Fire Chief.
East Dundee West Dundee, Sleepy Hollow Police and Fire Departments
These three northeastern Kane county communities were interested in developing strategies to identify shared service opportunities. Recommendations were evaluated and due to department size disparities West Dundee became a lead agency in delivery systems capabilities and facilities.
LaGrange, LaGrange Park, Western Springs Police and Fire Departments
These three West Cook County Villages were interested in service optimation with both their Police and Fire department which led to  shared supervision of police  in night shift deployment of police beats, a shared fire aerial tower for fire departments, development and deployment of a sub-regional central facility, and a shared cost central jail facility.
Leadership Development/Executive Recruitments
DU-COMM Emergency dispatching
This engagement with the largest consolidated dispatching center in Illinois was addressed in two parts. The first was to develop and then assist in implementing of the construction of a new large and contemporarily designed regional Dispatch Center to address chronic space deficiencies. A unique relationship was developed with the County of DuPage, and not a Du-Comm member, to endorse and finance a repurposed abandoned facility on the DuPage Governmental Campus. What resulted was the completion and use of a new dispatching center exceeding the expectations of the Agency. The second part of the engagement was an evaluation and leadership assessment of in-house supervisory talent within the Agency, and a recommendation for the most suitable internal candidate for promotion to Deputy Director.  
CENCOM Emergency Dispatching
This engagement was an exercise in strategic planning to facilitate a policy conversation for six central Lake County Agencies serving the Central Dispatching needs for their constituencies, and leading to a new direction and initiatives from which the Agency would address future challenges. This strategic planning session produce policy goals ahead for 5 years and beyond.
Round Lake Beach Police and Public Works Departments
Two separate leadership assessment investigations for this central Lake County Village produced recommendations which led to promotions and career development opportunities leading to stability in succession planning and excellence in leadership performance.
Batavia
This unique executive recruitment of the Next City Administrator was launch with an extensive community engagement for this iconic Fox River community and leading to Batavia's first female professional City Administrator. The process involved engaging over 100 community stake holders in the qualities and expectations sought in their next City Administrator.